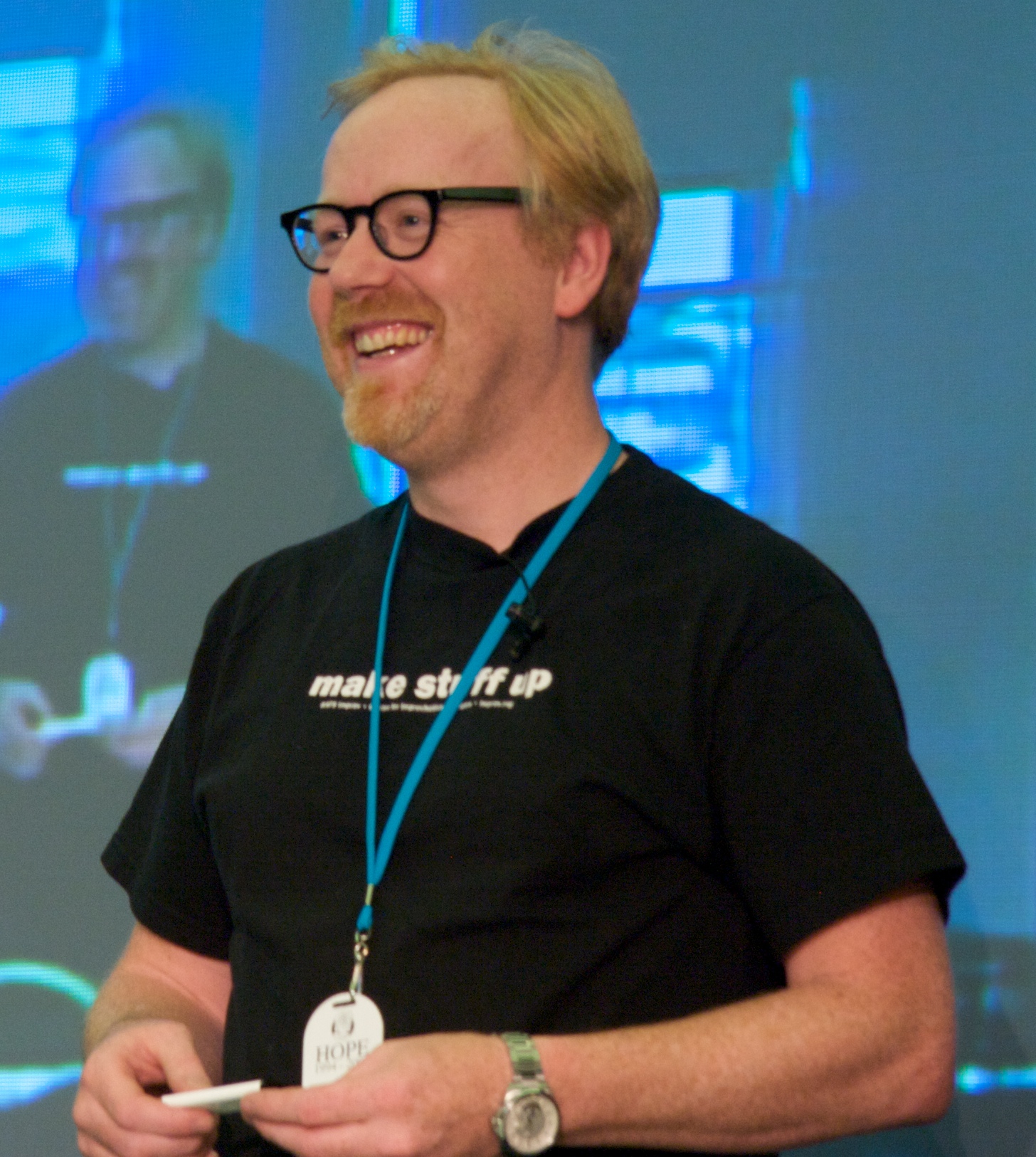 At Makers Faire 2010, Adam Savage of Mythbuster's fame gave a talk about his problem solving process. Even though he is a special effects guy by training, his advice applies very well for anybody doing scientific research! There may be a few steps missing for our purposes, but I believe it is a very good starting point for new scientists. If you want to watch the original talk, go here.
#1: Be clear about the problem you are solving.
This one is pretty self-explanatory, but it's amazing how much making sure to do this helps with work. Ask your adviser to expand on what they want, or if you are starting a more independent project, lay out for yourself what you want to solve. In his talk, Savage describes a test that is given to new people in the shop: "Drill a hole on the X." Surprisingly enough, many people fail this test – they drill four holes at the points of the X, they drill a hole but not in the center, or one of many other things that the task never was in the first place. I've fallen into the trap of falsely thinking I had my problem figured out before acting on it, only to be embarrassed or corrected later.
If a problem is being hammered out in a meeting, one of the most useful things that you can have is an audio recorder. Sometimes physical notes can be incomplete or misleading, and having the original conversation at hand can be invaluable if you are reviewing your problem at a later time. Make sure that everyone in the meeting is comfortable with this, though – some people just don't like having their voice recorded. (Yes, I have personally encountered this before.)
#2: What is the big picture? Where does my problem fit?
A literature review is the main element of this step. Begin by finding a comprehensive review article on the work area you are about to jump into. Note any important information you find, and track it back to the original articles. Continue reviewing until you feel comfortable with all the terminology, and feel like you have a good hold on what the big issues in the field are and how your research will contribute to solving it. Literature reviews have the added bonus of spurring on more ideas to research!
#3: Is there a deadline? If not, make one for yourself. Evaluate yourself often.
Research is notoriously hard to make deadlines for, especially if there are many tasks that must be done in serial order rather than parallel. Inevitably there will be process issues, broken equipment, difficult concepts to grasp, and a number of other roadblocks between you and your data. However, that doesn't mean deadlines in the short term aren't useful – they can be used to motivate and track progress, and help to keep you honest with yourself. All this assumes that there aren't any actual hard deadlines, which may not be true. Government agencies such as DARPA have rigorous review processes with strictly dated deliverables, and many other funding sources have "soft" deadlines where progress needs to be shown to guarantee a continuous money flow.
#4: What are my resources? How precise do I have to be?
When planning out your process, you will need to determine what kinds of equipment will be needed for each step. Will you have to send your sample out at any point for certain processes? Is doing so economical? Do you know where to find the equipment you need? If you are using your own equipment, do you have all the disposable materials required to do the process correctly? Will you be working in an environment appropriate for your process (ex. a cleanroom for precise microfabrication), and if you are not how will that affect your results?
Is the equipment you are working with going to give you precise enough data or allow precise enough tolerances to solve your problem? You may find that if this is overlooked, your data wont tell you anything meaningful in the end.
#5: What are all of your environmental variables? (Temperature, pressure, humidity)
Some engineering processes are greatly affected by environmental variables. If you are working in a climate-controlled lab, you won't need to worry too much about this step, but be aware when you are not. For sensitive procedures (using high vacuum equipment, for example) always record these environmental variables. If you find that your data has scatter in it that you cannot explain, this data may go a long way to solving the mystery. You can't go back later to collect this data, so be vigilant!
#6: Do I have all the skills necessary? Who can teach me more?
Every piece of scientific equipment may have a number of different uses. Do you know how to use it for your process? How might this be different from work you have done before with it? If you need help, who can teach you? Even if you feel fairly confident in your abilities, a helping hand can often teach you tips that will save you large amounts of work in the future. If there is no mentor immediately available, you may have to ask around to find an outside expert.
#7: Is this step important? Will it matter much if I am sloppy or mess it up?
Not all science needs to be exact. If you are trying to show a quick proof of concept or calibration, often it is not needed to perform every step of the finalized process. However, it is important to not unnecessarily simplify your process. Evaluate how the changes will affect the results, and whether those changes will or will not be able to be removed from your result for the purposes of your experiment. For example, if you are depositing onto a substrate that would normally have a thin film on top of it used for other parts of your process,
#8: Is there anything about this step or process that I can improve for later?
Start every procedure with a skeptical eye. Even if the equipment you are using has a standard operating procedure, some of the steps may be arbitrary or redundant. Remember that the person who wrote the SOP was also a human and could have made mistakes.
#9: Am I missing something stupid? Is there a simpler way?
Is the equipment you are using right for the job? Can you think of an easier way to accomplish the step you are doing? By doing this you may just figure out a new technique that is publishable, netting you some extra research points in the process!
#10: Now that this step is done, how does the hole look?
After you have collected a significant amount of data, sit down and review it. What does this data tell you about the problem you are trying to solve? If it does not solve it completely, what data complements the data you have already collected? Does this data contradict previously gathered data? If so, what variables have changed (could be unintentionally changed variables such as your environment or machine calibration)? Go through the list again for this new dataset to determine if the extra work is worth your time.