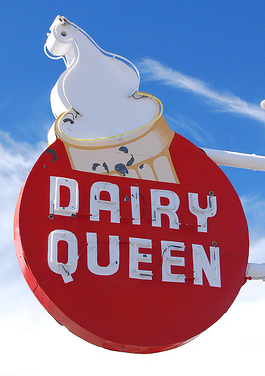 Dear Representative Brown,
As a humble member of your constituency, it behooves me to bring to your attention that the Dairy Queen on the corner of Mayberry and 7th is being closed.
You are probably clutching your chest right now. Don't panic, that's not a heart attack! Resist the urge to throttle your nearest intern, it's not his fault – he's only the messenger. Instead, blame me for not getting the news to you even sooner; I can shoulder that burden with ease. This issue is close to my heart, and I'll take any kind of lashing you'd like to give me. I'll take any punishment I deserve, sir.
Anyways, that's beside the point. I know you don't like long and complicated reports – those reams of mumbo-jumbo "research" about the economy are only appreciated by eggheads and weirdoes anyway. An egghead and a weirdo you are not, Rep. Brown. You're a people person, a good guy who enjoys a tall, cold beer. You know what's better than a tall, cold beer though? Don't be hasty by ripping up this letter, give me a chance! A tall, cold Blizzard from Dairy Queen, that's what, and soon you won't be able to get one for a good 100 miles. Doesn't that send shivers down your spine? And I don't mean those really good, satisfying, o-face shivers, neither.
I know you care about your district, sir. You must know then that small businesses are the lifeblood of towns like these – franchises run by fine people like Ted Gupta, who started as a struggling salt peddler in Khandesh. He built up this business from nothing, and is now trying to live the American Dream. I know as well as you that we would not be the great country we are today without brave people like Mr. Gupta, who will do anything it takes to bring this economy back to the top of the heap using their guts, savvy, and unethically long working hours!
Yes, DQ Corporate is partially to blame for that whole Chill and Grill nonsense. At least the old DQ Brazier name got you a little bit excited before you were let down. Haven't we all made mistakes, though? I mean, look at the car companies that we had to save when the economy went south, look at the bank bail outs, and look at your marriage! I mean, that was terrible but you sure pulled through. Don't worry Rep. Brown, we're all on your side – Margie was a bitch and everyone knew she was sleeping with the mailman.
I know that you are a great pragmatist, so let me quote you a statistic: 34% of towns that have closed their local Dairy Queen have had their suicide rates at least double. That includes Hincklesville, Charlottestown, and even our neighboring Marblesburg. I realize that means our greatest rival, the Marblesburg Angry Beavers, won't have a robust high school sports recruiting pool for next year, but we surely don't want the same thing happening here! Since you're such a big football fan, I'm sure you'll be shocked to hear that Minnesota has a Dairy Queen for every city in the state. That's right sir, the Golden Beavers, who beat your own Penn State 21-7 just last week, are winning on yet another front! I'm sure you'd like to slap that cheeky grin right of that fucking beaver's face. What better way to break their spirit than take away their title of the creamiest state, eh?
Now I've been told by some very respectable people that all the best letters have anecdotes. When I was just a young boy, all of my birthdays would include one of those delicious DQ ice cream cakes. They made me so happy, that's all I wanted each year. But now they've changed, and I haven't had a normal birthday for 32 years. Once DQ took out the fudge next to those delicious crunchies, everything started falling apart. With the fudge layer gone, the crunchies devolve into a chaotic mess after just a few minutes. You end up cleaning up after your ice cream cake more than eating it. It reminds you of your wife, your useless, useless wife who doesn't sleep with you anymore now that you've had too much ice cream cake. Now that DQ might leave my life all together, I really don't know what I'll do.
We should talk more about this in person. How about over a beer at Chumley's? I'll be there next Thursday, six o'clock. I have a very attractive wife, you'll like her a lot. Probably more than I do. I think we can all come out winners in this: you, me, my wife, Dairy Queen. Maybe DQ could stick little American flags in all of their frozen treats? Or perhaps mini campaign signs would work. (Brown-ie Fudge Blizzard, anyone?) I've got all kinds of ideas; I'm quite an idea guy. Give it some thought!
Sincerely,
Your Greatest Friend / Worst Enemy, You Decide
P.S. Sorry, that was probably a little too aggressive. Seriously though, this is important.